Francis Picabia's Tireless Imagination
Part of the Collection of Pierre and Marianne Nahon, Surrealist painter Picabia's masterpiece Mélibée , an exemplar of his innovative series of Transparancies, is the top lot of Sotheby's upcoming sale on 19 March. Read on to find out more about this magnificent work.
In 1922, Francis Picabia wrote, "If you want to have clean ideas, change them like shirts." Throughout his audacious and inventive career, which spanned almost 50 years, Picabia lived out that prescription. His work ranged from Impressionist painting to radical abstraction, from Dadaism to classicism. His career is characterised by many stylistic changes, as Picabia experimented with different approaches and unorthodox materials.
His melancholic and haunting work Mélibée proved to be one of the absolute masterpieces of Picabia's second Transparencies series, which he began in 1929.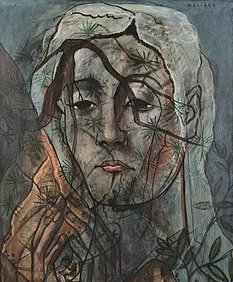 FRANCIS PICABIA, MELIBÉE, EXECUTED CIRCA 1931. ESTIMATE €2,500,000–3,500,000
In contrast to the series' earlier works, the Transparencies painted between 1929 and 1932 are characterised by an increasing complexity of composition, with a rich variety of themes and meanings. Critic Michel Sanouillet observes "we must approach the 'transparencies' in the following way: they present themselves at first, as an inextricable and more or less graceful interlacing of lines and volumes that one must surrender to appreciating merely as vague impressions or with a feeling of confusion. Gradually however, these groupings both unify and separate, enabling a deeper perception of the painting and pulling us in, in a requisite leisurely manner" (in Marcel Duchamp, Marianne and Pierre Nahon, Arnauld Pierre, Picabia, classique et merveilleux, Paris, 1998).
"[Picabia] devoted himself to the study of transparency in painting. Through the juxtaposition of colour and transparent shapes, the picture essentially expressed the sense of a third dimension, without the help of perspective. Prolific in his work, Picabia belongs to the genre of artist that own the perfect piece of equipment: a tireless imagination."
MARCEL DUCHAMP
The early works of this iconic series were painted in 1927 and from September 1928 were exhibited at the Théophile Briant Gallery in Paris, where they enjoyed immense success. The poet Jean Van Heeckeren wrote of this: "Over the past two years, Picabia has made an extraordinary artistic discovery that consists of superimposing several transparent figures. This has never been done before. This discovery is as important and prolific as the discovery of non-representational style was twenty years ago."
FRANCIS PICABIA, MELIBÉE, EXECUTED CIRCA 1931. ESTIMATE €2,500,000–3,500,000 MICHA PATAULT
After his experiments in the Dada movement, Picabia returned to the traditional technique of oil painting. The themes of these paintings draw on history and tradition, from ancient Greece and Rome to the Renaissance, and are inspired by Botticelli or, in this case, Piero della Francesca. The beautiful face of Melibée is reminiscent of Francesca's Madonna and Child with Saints and Angels (1472), and the position of the hands is also the same.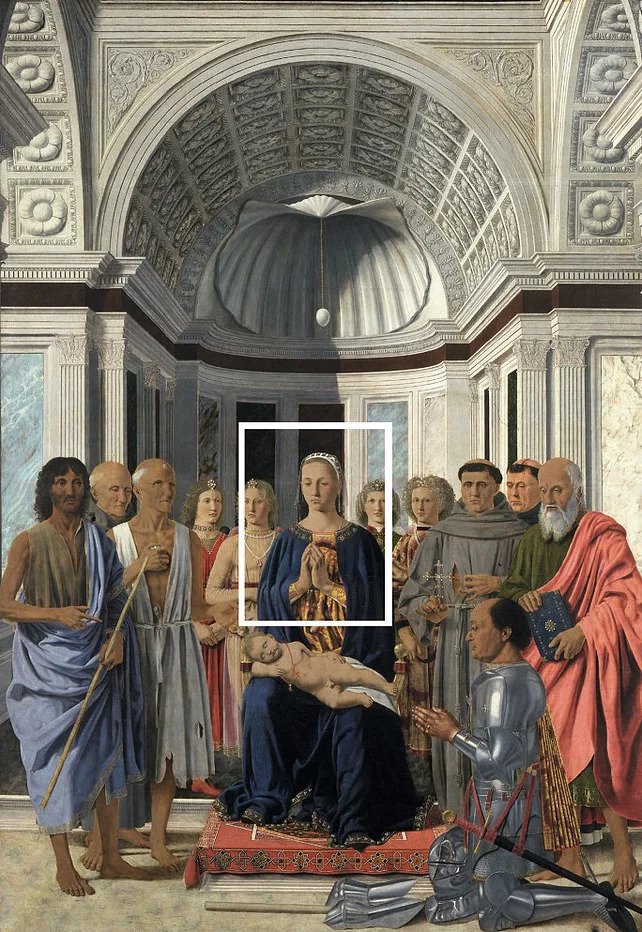 MADONNA AND CHILD WITH SAINTS AND ANGELS BY PIERO DELLA FRANCESCA
At the height of his career, Picabia created the most impressive of the Transparencies, culminating in the perfect synthesis between the impenetrable enigma of the subject, the virtuosity of the superimposed motifs and the visual power of the composition. A masterful and incredibly poignant painting, Mélibéeplunges the spectator into the heart of Picabia's artistic process, as he himself wrote in the preface to his exhibition at the Léonce Rosenberg Gallery in December 1930: "These transparencies, with their pockets of obscurity, allowed me to express my innermost desires […] I wanted a painting where all my instincts could flow freely."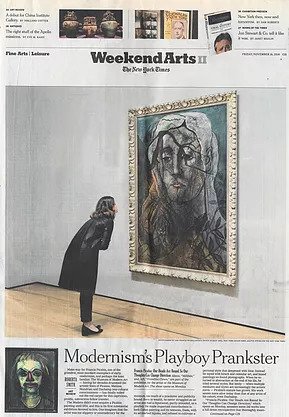 COVER OF THE NEW YORK TIMES PUBLISHED THE DAY AFTER THE EXHIBITION OPENING OF THE FIRST PICABIA RETROSPECTIVE IN THE UNITED STATES.
After his Paysages impressionnistes, Espagnoles, Caouchouc (1909) – considered by some the first abstract painting – and following his Dada period, his mechanical drawings, his departure for New York in 1915, meeting Tzara in Zurich in 1919, The Animal Trainer in 1922, and his involvement in the ballet, Entr'acte; by 1927, with the Transparencies series, Picabia was trying to find the third dimension, without the use of perspective. Complex interlacing and blended faces are both enthralling to the mind and charming to the eye. Harmonious colours, captivating complexity, a return to oil painting; these artworks become magical lands, punctuated with symbolic and literary references.
We had been following Picabia's work for a long time before we opened our gallery. We fell in love with the masterpiece, 'Melibée' while visiting New York in 1989 […]. We have cherished and admired our nymph ever since and have loaned it out many times. Its last appearance, at MoMA in 2016 for the first Picabia retrospective in the United States, completely exceeded our expectations. And, to our absolute delight, the New York Times honoured it with a full-colour front page the day after the exhibition.
MARIANNE NAHON
The title also evokes the tragicomic prose work of Fernando de Rojas, La Célestine (1502), which was extremely popular in Spain. In the story, Calixte, a young, handsome and refined nobleman, meets Mélibée, the daughter of a rich merchant, in a garden. He falls in love with her.
Pure and of great beauty, she rejects him. Desperate, he asks Célestine, a greedy and spiteful old matchmaker, to help him. Potions and words take effect. Mélibée falls madly in love and gives herself to Calixte in the garden of her family's home, which he enters by climbing a ladder to scale the wall. Alas, Calixte's servants, bribed by Celestine, refuse to share their profits with her.
A fight breaks out and shouts echo all around. Celestine is killed. Worried, Calixte rushes to leave the garden of his beloved. He leans the ladder against the wall, one of the rungs breaks, and he falls, hitting his head on a sharp stone and dying. The branches, leaves and pine needles that protect and mask Mélibée's beautiful face, and her hands joined together in supplication… are these indelible marks of the fairytale?
Get updates about our next auctions
We will process the personal data you have supplied in accordance with our privacy policy.